About Riverside Fire & Rescue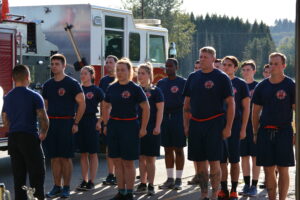 RIVERSIDE FIRE & RESCUE is a special tax district dedicated to providing fire and emergency services to the citizens and visitors of Pierce County Fire District 14. The fire district was established in 1952 out of a small business along River Road in unincorporated Pierce County. The fire district began as an all-volunteer force of community members coming from home or work to provide service to their neighbors.
Today Riverside Fire & Rescue continues to provide service to the fire district along the lower Puyallup River valley.  The fire district spans from the City of Puyallup to the City of Tacoma along the Puyallup River to the north, and along Pioneer Way to the south. Within our response area, we proudly provide emergency services to the Puyallup Tribal Community at Chief Leschi schools, fish hatcheries, local businesses, and residential properties.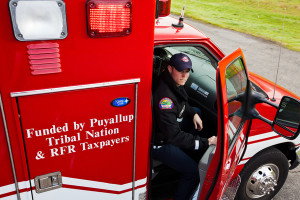 The fire district is governed by you, the citizens. There are three elected fire commissioners that oversee administrative functions of the district including financial budgeting and establishing and maintaining district policies and procedures.  These positions are selected through a vote of the tax payers of the fire district to six year terms of office.  The fire commissioners meet at Station 74 every month on the second and fourth Mondays at 6:30 p.m.; these meeting are open to the public.
Our staff remains primarily volunteer firefighters, which work side by side with our career fire chiefs. All of our firefighters are trained to the standards set in place by the Washington State Fire Marshal's office. Along with obtaining and maintaining their firefighter certifications, our staff must maintain the minimum of Washington State Emergency Medical Technician (EMT).  Station 74 is staffed every day with a minimum of two to three firefighters on duty at all times.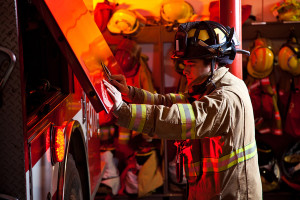 Operating out of one fire station along River Road (WA SR-167) we provide fire, EMS, water rescue, and hazardous materials investigation. These services are provided with a fleet of our front line fire engine, a reserve fire engine, water tender, basic life support aid unit and reserve basic life support aid unit,  marine unit, brush unit, and two command staff units. We have operating agreements with the City of Tacoma, East Pierce Fire & Rescue, as well as Brown's Point/Dash Point Fire. Riverside firefighters also work side by side with local law enforcement agencies such as Washington State Patrol, Pierce County Sheriff's Office, and Puyallup Tribal Police.
Listen to live dispatch audio from Pierce County Fire Comm. During the update to South Sound 911, agency's are responding on different frequencies. Riverside Firefighters respond on the new 800Mhz system or Bravo channels.
MISSION
Working as a team, we are dedicated to serving our customers.
We will strive to be financially responsible and use cost effective systems to provide professional affordable services.
Our goal will be to continually learn, change and improve.
We will focus on results, providing the best possible service to the citizens and visitors of our district, 24 hours a day.
VISION
Our vision is to be responsive to the changing needs of our community, professionally providing quality fire and emergency medical services to the customer in a manner that encourages pride, respect, and confidence in our organization by the members of the community.
CORE VALUES
Professionalism | Accountability | Courtesy | Compassion | Integrity| Commitment